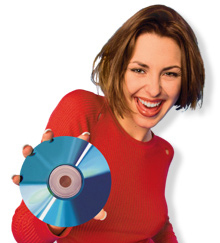 Welcome to RecordNow! by Sonic, your gateway to the world of digital music, video, and data recording.

With RecordNow! you can make perfect copies of your CDs and DVDs, transfer music from your CD collection to your computer, and create personalized audio CDs containing all of your favorite songs.

In addition, a full suite of data and video recording programs by Sonic can be started from within RecordNow! to back up your computer, create drag-and-drop discs, watch movies, edit digital video and create your own DVDs. Some of these programs may already be installed on your computer. Others are available for purchase.

This tutorial will introduce you to many of RecordNow!'s most useful features.

Note: Not all projects or project tabs are available with all versions of this program.