---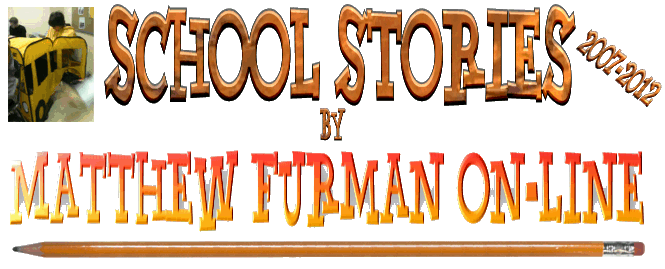 Choose a story from my wacky life in Junior High through Senior High School...

Squeaky Pen -7th grade
Math Class Identity Swap -11th grade
Television is better than class -10th grade
Umm... Teacher, the CD drive is broken.... -10th grade
Fun with Microsoft Word -9th grade
Ding-Dong! It's the last day of school and you can't give me detention -12th grade
The Open Window Maniac -12th grade
Hey! What's up with these computers? -12th grade
Classroom Designer -11th grade
Ding! The popcorn's ready! -12th grade
Masking Tape Madness -11th grade
Giant Birthday Cards -11th grade
This is by no means a complete list of my school nonsense. These are just the top stories of
my nonsense throughout Junior High & Senior High School. I am putting these fun stories
into writing now that I have graduated (Class of 2012!!!) and can't get detention for the ones
the teachers did not know about. I have grown up (a little bit anyway) since these events
happened and I do not get in so much trouble anymore. And just as a note to people
reading these, while they are very funny, I did get in a lot of trouble for doing some
of these, so while I absolutely encourage being unique and different from the crowd,
do not go crazy trying to repeat my funny stories in your own life. In other words, check your
school handbook for loopholes and use you brain! If you would like to write to me or
"pick my brain" for funny ideas, send me an email here.


2007-2012 Matthew Furman
www.furmannet.net
Website last updated on: Friday, May 29, 2020 at 02:01 PM Eastern Standard Time
---
.
Keywords: funny stories, Matthew Furman, silly school ideas, nonsense at school, fun things to do in class